Sunrise Group among the world's top ten chemical distributors
2023-05-23
Sales revenue of US$3.6 billion, only Chinese enterprise to feature in ICIS Top 10 Chemical Distributors list.

Company officially expands into the pharmaceutical sector following a strategic acquisition
LEADING Chinese chemical distribution company Sunrise Group has secured a global ranking of tenth place and third place in the Asia-Pacific region on the latest ICIS Top 100 Chemical Companies list. According to its latest financial report, Ningbo-based Sunrise Group generated US$ 3.6 billion in sales.

In 2022, the company expanded into the pharmaceutical sector, acquiring Taizhou Dachen Pharmaceutical, a firm specializing in R&D and manufacturing of pharmaceutical raw materials and intermediates such as pyrazole and sitagliptin side chain. Taizhou Dachen Pharmaceutical generates an annual output of US$ 58 million. The deal has strengthened Sunrise Group's competitive advantage within the API and intermediate market. It has also paved the way for entry into the higher-end pharmaceutical preparation market.
Sunrise Group attributes its growth in sales to its ability to adapt to market changes quickly and optimize its product quality, service level, and supply chain management. This ability has enabled the company to increase its sales performance by 41% year-on-year in 2022, with a growth rate of 14% for customers and 10% on products.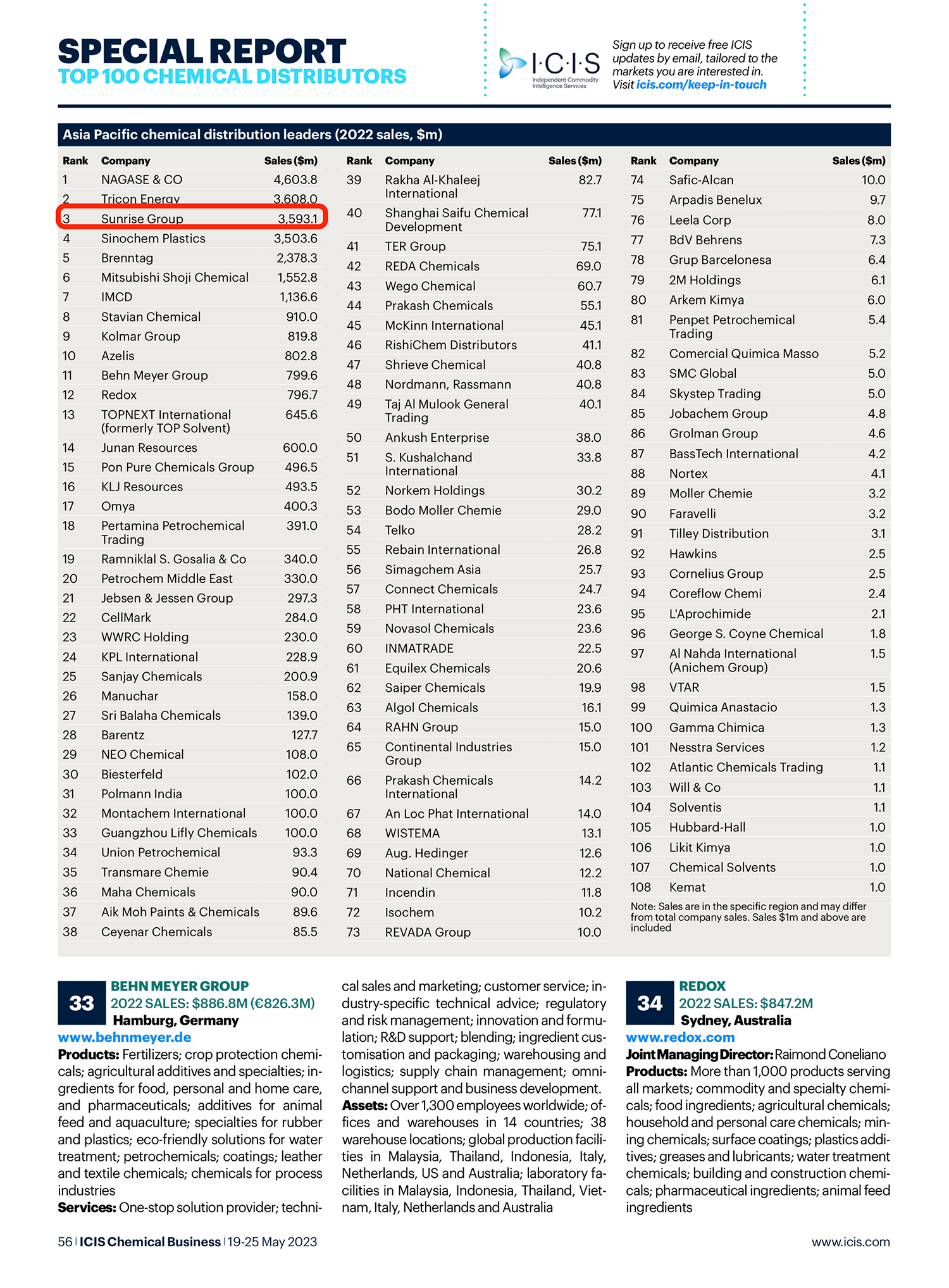 The company has also modernized its warehouse and logistics center and launched a new brand image to reflect its growth within a changing market. Sunrise Group is committed to strengthening collaboration with its valued suppliers and customers worldwide and ensuring a unique contribution to the chemical distribution industry.
The company anticipates challenges in the export of China's chemical products in 2023 due to unfavorable geopolitical tensions, rising interest rates, and high inflation. However, Sunrise Group remains optimistic about the future market potential stimulated by the RCEP and economic growth in ASEAN and other regions. The company intends to leverage its expertise in chemical distribution and collaborate with its partners to advance technological innovation and market expansion in these fields. Despite the challenges of a highly competitive and dynamic industry, Sunrise Group has maintained its strength and continues to position itself at the forefront of industry innovation.
It looks forward to sustainable human health development. To learn more about Sunrise Group's services, interested parties can contact Sunrise Group to learn more about its services or email sfcc@sfcc.com.cn, or visit its website at www.sunrisechemical.com.